One degree of separation (3/14/09)
Dubbing Matt Damon into our teaser last month reminded me of the many near-misses that we've experienced, times when we've come within one or two degrees of separation from signing on some very heavy hitters. Here's our list. It'll be followed by a very sobering conclusion:
- Matt Damo
n – I've spoken with his High School history teacher, and got his PA's email address from his Mom(!), but we still haven't gotten him to sign on the dotted line (or even to reply to an email).
- David Ortiz
–

the son of my work colleague is the BMW dealer whose exclusive client is Big Papi, but he (understandably) didn't want to bring this outside stuff into their relationship.
- John Henry
– the cousin of the wife of a scientist interviewee winters with the Sox owner in West Palm Beach, but for some reason JH never followed up with a call to us.
- Stephen King
-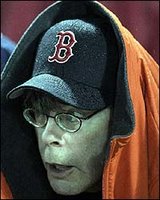 I sat next to Stephen King's doctor at a book signing (no one in my line, 20 in his), and he agreed to contact Mr. King about being interviewed for our film. I thought he'd put a nice supernatural spin on things, but no dice.
- Larry Lucchino
– I did bump into the Sox co-owner at Spring Training in '07 and we had a nice chat. He helped make some arrangements for us, but he hasn't answered any recent emails.
- Manny Ramirez
–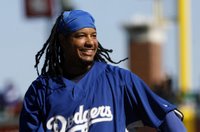 our producer has worked with the sportscaster for the local Spanish network, a guy who interviewed Manny all the time. But by the time the possibility of an interview with us got around to being discussed, Manny had become a Dodger.
- Mariel Hemingway
–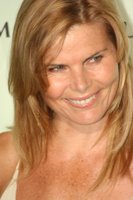 she's very into holistic projects, and a physician friend of hers met me at a conference and said he'd pass on the project info to her. She's not a Sox fan, but a Hollywood connection couldn't hurt.
- Theo Epstein
–
his Mom runs a local boutique where the wife of a colleague shops all the time, and… (this one shows how desperate I am!).
Bottom line – if it happens, it happens. But listing these near-misses helped me realize that it's time to look into Plan B for fundraising – using the strength and breadth of Red Sox Nation to drive our finances, rather than hoping to find one or two wealthy sugar daddies to bring home the bacon.
So we've devised a new strategy that will implement a grass-roots approach that puts into action the very principles of manifestation that our project is researching. I'm still working out the kinks, but the next blog post will show how we can harness the intentionality power of our readership to benefit the Sox during the upcoming baseball season, while at the same time solving our fundraising challenges as well. Stay tuned!