Manifesting Gabe Kapler (written 11/23/08)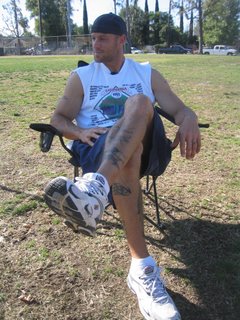 In some ways, former Sox outfielder Gabe Kapler has been the patron saint of JoS. He was the first Sox player we ever had contact with, starting way back in 2006 during a long spell on the disabled list with an Achilles heel injury. The Boston Globe did a feature article on him that highlighted his independent mindset and insightful approach to sports and life. It caught my eye, and made me wonder if he'd be interested in our concepts. So we tracked him down (some people actually read their fanmail!) and started a very enjoyable online, and ultimately in person, connection.
He has supported us by helping us get passes to Spring Training, by letting us interview him at length in his hometown of Tarzana, and by lending his visibility to the project. So, along with the rest of Red Sox Nation, we've shared his career ups and downs, from the high point of being on the field when the Sox won it all in 2004, to the low point of leaving the Sox after the 2004 season to play in Japan, to spending the 2007 season as the manager for the Sox' minor league affiliate in South Carolina, to returning to the big leagues last year as a backup outfielder for the Milwaukee Brewers.
But something interesting is cooking now. The Sox have recently traded away Coco Crisp, their 4th outfielder, leaving a hole in their roster for someone who could be a dependable backup if/when one of the regulars is hurt. What better choice that fan favorite Gabe? The offseason months of November and December are when deals are made behind the scenes, and so I jokingly emailed Gabe about a possible return to Fenway.
His reply? "Manifest it!" In the spirit of our JoS belief in the power of intention, he was asking us to help bring it about. And not surprisingly, he's also OK with this next crazy idea – harnessing the force of our entire readership to generate some positive energy around the potential for his return to Boston. So here's the idea – each reader who wants to see Gabe back in town can use our principles to magnetize that possibility.
Here are the key steps:
1. Start by connecting with positive emotions like fun, appreciation and joy (duh!). Use your own memories of times when you felt these feelings, and then take a few deep breaths to help you feel them coming alive inside your body, as warm fuzzies, tingles, or whatever.
2. Staying in that positive state, vividly imagine future scenarios with Gabe as a Red Sox, and let these images become as real as possible.
3. If/when you notice doubts and worries creeping in, acknowledge them and then put them aside as you consciously refocus on your preferred outcome.
4. After a minute or two (that's all it takes), simply step back from your imagery and let the Universe take it from there. But please help the Universe by making this effort go viral - email a link to one and all.
How can we tell if this works? Just keep your eye on the sports section of the Boston Globe!