"...and batting cleanup, Elvis Presley" (8/3/08)
Maybe it's just me, but this year my interest level in the Sox's performance has nosedived. I've been plenty busy with Sox stuff like analyzing RNG measurements and producing the film, but I haven't followed the team's standings very closely or watched them much on TV. I feel like a loyal fan who got his reward: two World Series victories after that 86 year drought. It's someone else's turn now - maybe the Chicago Cubs, who haven't won for 99 years. But apparently the rest of Red Sox Nation hasn't lost any of its intensity, and the proof was on display yesterday in the studios of Hopkinton's community access cable TV station, HCAM.
JoS had put out a casting call for fans with interesting Sox stories to tell – coincidences, superstitions, rituals and the like. Out of the scores of responses we got, Producer Karen Webb trimmed the roster to a dozen finalists, who trooped out to the studio Saturday morning to tape some interviews. And they bowled me over with the undiminished intensity of their passion.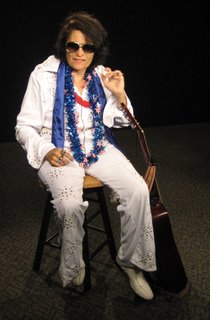 We saw the whole gamut, from a women whoseprayers to her deceased daughter broke the 86 year curse, to an ex-con describing how difficult it is to collect on jailhouse sports bets; a female Elvis impersonator singing The King's homage to the Red Sox ( a song which, for some mysterious reason, was never recorded by Elvis), several fans who took responsibility for single-handedly losing the 1986 World Series (who knew that popping the champagne cork too soon could be so costly). There were several kids who were already caught up in the rivalries and superstitions at a very tender age (can you say "cult"?), and one savvy grandpa who'd learned that life was about more than winning or losing (like giving a foul ball to the yearning kid in the next row rather than the grandson at home).
One fan's prized possessions included a sample of dirt from the runway track, an authenticated slice of Fenway's old wooden bleacher benches, and even a well-behaved terrier named Fenway. Someone else brought a Yankee beanie baby, complete with a noose. Sadly, the confirmed vegetarian who still eats Fenway franks wasn't able to make it, but we definitely saw a lot of Boston's self-professed #1 fan, a man whose gaudily decorated and quite massive belly (not a 6-pack ab but a kegger ab, as he pointed out) is a familiar sight to bleacher regulars.
As a psychiatirst, I couldn't help but notice that this crew's psychological focus seemed to be skating on thin ice at times, but their passion was never in doubt. And that's part of the secret to being an effective fan, so all I can say is – Party on!
Take Home Point: even if my affection for the Sox is waning as they trade away the wild and crazy characters I loved, that hasn't stopped the fanbase from staying inspired, energized, passionate and focused on their collective goal – and that's the key to the power of intent.