Friday the 13th - my lucky day
"All in due time" (or something to that effect) said Yoda to Luke, but he might have been speaking to me. Many project strands that have been ripening came to fruition during the week of July 13th, a Friday that was anything but unlucky. For starters, I usually go to one Red Sox game every couple of years, but during that week I actually went to three consecutive games – one courtesy of NESN, one courtesy of the Red Sox, and one courtesy of some friends as a birthday present. Here's a quick summary of this flurry of activity, and the project goals that were accomplished: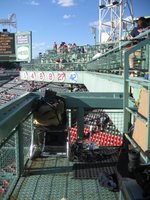 1. NESN (Thursday the 12th)
– the "Sox Appeal " TV dating show finally set up some times where I could go to Fenway and record RNGs (Random Number Generator output) while they were taping their dating show. I went on the 12th and 13th, their last two shows of the season. I was allowed to set up my laptop in their camera bucket that perches from the upper pavilion box seats (where they film their date interviews) out over the grandstand seats. I plugged my PC into their extension cord
(that's the laptop, under the chair in the photo)
, set the hardware going, and cleared out. The game itself wasn't spectacularly exciting, but the RNG results were – I made note of what I felt were 5 particularly intense or emotion-packed moments during the game, and waited to see how Scott (the computer analyst's) choice of 5 key moments matched up. The intersections were intriguing – 4 of his 5 top computer moments were at down-points in the game – boos for an opponent's home run, a prolonged argument with the umps, and the end of the game as our rally fell short; not during the cheers, as I had expected. In all honesty, it wasn't that thrilling a game, so it's hard to know what the data means.
2. The Red Sox (Friday the 13th)
– after literally months of trying, the Sox' media relations people were able to set me up with two brief pregame nterviews with some current players. I got 10 minutes before batting practice with both Mike Timlin and Doug Mirabelli, who both impressed me with their thoughtfulness about the intangible questions I asked them. Since Joel was out of town (and country), I had to scramble to get a video person on 24 hour notice, but NESN was nice enough to lend me the assistant who had worked with me the day before on "Sox Appeal", along with a camera. It was her big break in the world of documentary filmmaking, too.
3. My birthday (Saturday the 14th)
– coincidentally, some friends had already gotten my wife and I tickets to the Saturday game as a birthday present, and without a aptop or a press pass, it was just a "normal"game at Fenway. It would have been a great RNG test, however, since it was the game where the Sox hosted their biggest annual cancer fundraiser, the Pan Mass Challenge bike ride across Massachusetts. The emotional highlights began even before the game started, with a ride around the Fenway outfield by several dozen bikeriders, and then the anthem sung by a throat cancer survivor. When she hit the high notes of "o'er the land of the free", the crowd went wild, and I'm sure the RNG meter would have done so too. The team seemed to respond to the fan's enthusiasm, as David Ortiz' first inning home run was his first Fenway homer in 2 1/2 months; the team just rode that wave of positive emotions to a 9-4 win. It was a fun game to attend – too bad the computer didn't come with me!
4. Not to mention Wednesday July 11
– WCVB (our local ABC affiliate) aired a 4 minute segment on the making of our movie, as part of their regular news magazine show, Chronicle. We're working on getting a link to it from the website, but in the meantime I'll say that it was a very positive presentation that will contribute to the "buzz" of Joy.
Yet to do – I still have to coordinate all the relevant data, to see if we actually found anything important in the laptop experiments. I have yet to find out from our stats guy how the RNG numbers went during each of the 6 "Sox Appeal" dating pairings I was there for. Then I have to find out how the dates themselves went; ideally, each date participant would rate their experience (ie, C+, A-, etc.). These 12 data points (figuring two games, with three dates per game and two participants per date) would hopefully correlate with the as-yet-to-be-determined statistical rating for each of those 3 inning dating intervals. Lots of work lies ahead for Scott, our volunteer stats guy. If the numbers do jibe, and if the dating results do correlate with the RNGs,then we'll have an unexpectedly practical application for all this abstract statistical mumbo jumbo!